FIREWORK INJURIES AND FIRES IN PERSPECTIVE
Use of fireworks in the United States has risen dramatically since 1990, increasing from 67.6 million pounds in 1990 to over 190 million pounds in 2002. Injuries and fires associated with fireworks, however, have decreased significantly over this same period. In 2002 (most recent statistics available), the fireworks-related injury rate has fallen by 88% setting a 26-year low
Nationally, there were an estimated 8,800 people treated for firework-related injuries in 2002, down from 10,900 in 1995 according to the U.S. Consumer Product Safety Commission (CPSC). Injuries per 100,000 pounds of fireworks have dropped from 17.8 percent in 1990 to 4.6 percent in 2002.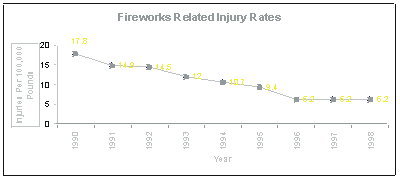 Since 1994, injuries have declined 44 percent while use has increased significantly. The U.S. Consumer Product Safety Commission (CPSC) estimated that fireworks cause only, about 0.01 percent of all injuries. These reductions are due in large part to the improved quality of fireworks and enhanced safety education efforts. Greater participation in these efforts will curb the misuse and abuse of fireworks which continues to cause the greatest percentage of these incidents.
Fireworks-related fires have declined significantly in Texas. According to the State Fire Marshal's Office, fireworks caused 365 fires in 2002, down 42% from 2001. Fireworks-related fires accounted for less than .05 % of the nearly 1,000,000 fires reported in Texas in 2002.